If you are interested in cars, you've probably heard about the Advanced Driver Assistance System (ADAS) once. It is a high-tech body control technology that is the basis of Self-Driving Car which is getting attention nowadays.
Unlike an autonomous vehicle, in which an AI computer manipulates the vehicle without human intervention, a vehicle that is driven by a person with the help of an ADAS system is called a semi-autonomous vehicle.
Automakers are developing 'Smart Driving', which is a combination of camera, radar and ultrasonic systems such as lane departure warning system (LDWS), front and rear collision warning system (FCW · RCW), blind spot detection system (BSD), and autonomous emergency braking system. LKAS, which is easily available on the market costs 100,000 won to several hundred thousand won. Is there any way to keep the driver safe at a lower cost?
The first smartphone ADAS system 'AONE'
The Performance test was carried out from Seoul Mokdong through Olympic road section to Chuncheon, a day and night round trip. The vehicle used for the test is Chevrolet Cruze Diesel Auto Model (2011 model year) using Galaxy LTE Android version 5.0. I personally have an iPhone, but iOS version is expected to be released in mid-April.
The AONE app screen illuminates the road like a black box and consists of emergency call, vehicle speed, braking distance warning, and lane departure warning. The alarm sound is triggered when the braking distance approaches 1 second of the vehicle ahead. At first, the alarm sound was disturbed by the radio sound. I'm concerned about the sound coming from the radio and the sound of navigation. As time went by, I somewhat adapted to it, but I had to turn off some devices for safe driving.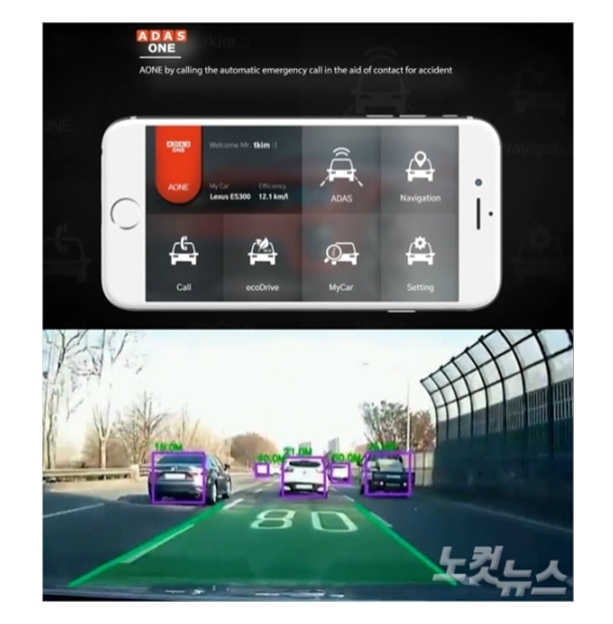 The first smartphone-based ADAS system 'Testing'
The app supports some additional features like Google Maps navigation, calendars, fleet management, and music play, but I only paid attention to driving.
As time passed, it was 9pm. Unlike Seoul, Chuncheon, which is already covered with darkness, does not have bright lights at night. The same was true for highways. The weather was very bad for night drivers.
I started my night driving test firmly. When entering the highway, it starts to rain. When the distance of the vehicle steering light is shortened and the wiper is moved. AONE is based on a smartphone camera, and I think that there will be a limit of recognition rate at night, after 20 minutes, AONE's lane departure warning function was effective.
Even at night, the performance was almost the same without any significant difference with day time. However, the inter-vehicle distance warning, which is a distance warning function regarding the front car, was unfortunately not showing any performance. The company also says that next-generation models will be reinforced with high-performance cameras and night vision technology.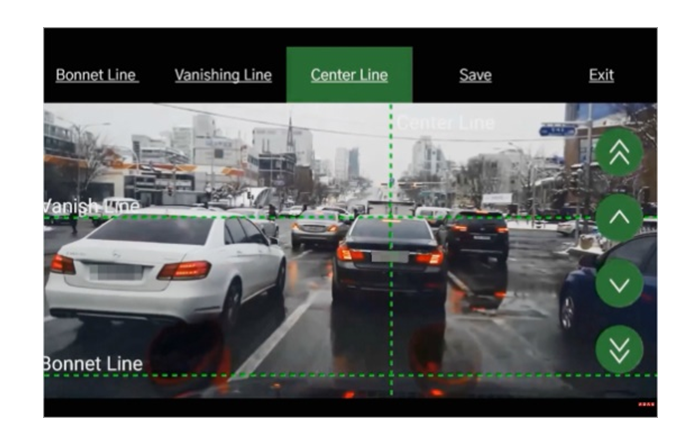 AONE calibration setting mode for using ADAS function. If the setting is not correct, the ADAS function cannot be used.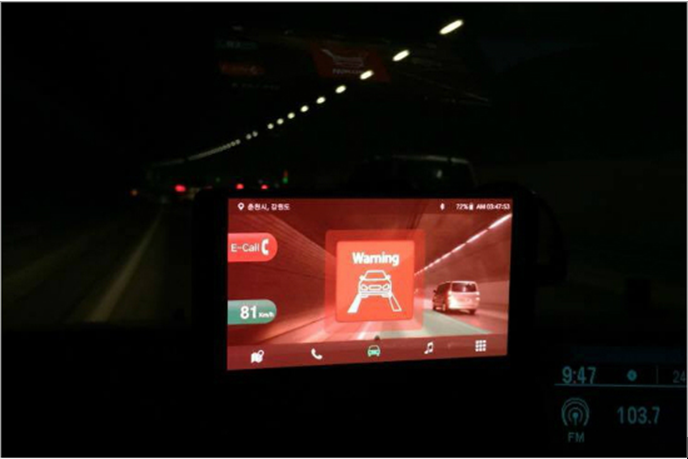 During the nighttime driving, it recognized almost exactly when the lane departure occurred and the warning alarm was triggered.
Effective for nighttime, long-distance driving, commercial and commercial vehicle
At 10 PM, the drowsiness suddenly pours down. The lane departure warning alarm was launched several times. After a few more alarms, I set my mind and drove to a nearby rest stop.
I had a cup of warm coffee and while stretching, I thought about it. Night Driving seems to be a good choice for frequent or long-distance drivers. Especially, for those who use logistics business, taxi and bus transportation.
However, the greatest thing is that the brightness of the smartphone was very good during the night driving. It will vary from driver to driver, but I thought that the bright light of smart phone in addition to the navigation screen might be a hindrance to safe driving. There is a way to lower the brightness of the smartphone screen, but it does not seem to have a big effect.
Mobileye's similar products use a round monochrome display instead of a smartphone. Thescreen information is simple and visual fatigue is very low. It is just an idea, but how about introducing a head-up display (HUD) type that reflects to the windshield of a car rather than a monochrome display?
Recently, Mobile Eye has signed a contract with a taxi company in Korea, installed the "Mobileye 560" forward collision warning device for 1.2 million won per month.  After three months of pilot operation, no frontal collision occurred.
As a result of the six months of no  accidents, the cost of repairing the taxi vehicles was reduced by about 43%, and the amount of compensation paid to the taxi cooperative and personal compensation decreased by 50% and 57%, respectively.
"Mobileye 560" is composed of camera sensor and monochrome round display. ▲ Shortest 2.7sec. Forward vehicle collision warning. ▲ Vehicle distance alarm. ▲ Pedestrian collision warning. ▲ Lane departure warning. ▲ Speed limit sign recognition.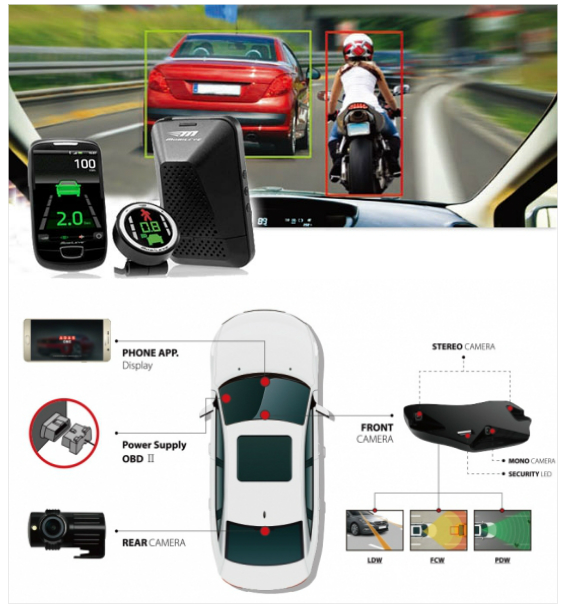 'Mobile Eye 560' (above) model and ADAS ONE's 'HS-500F' (below)
Mobile Eye 1,200,000 won vs Domestic 'ADAS ONE' Approx 400,000 won
In addition to 'AONE', ADAS ONE plans to launch a mid-sized model 'HM-300F' and a high-end model 'HS-500F' at home and abroad in July, and compete with Mobileye, which occupies 70% of the global market.
HM-300F' is equipped with ▲ wide angle mono front camera ▲ ADAS (lane departure alarm / forward collision alarm / front car departure notification system) ▲ forward FHD / rear HD video recording (black box) ▲ Night Vision (HM-300N model), Supports phone / OBD / ADAS ONE mobile app. The HS-500F is equipped with a multi-angle front camera (narrow stereo / wide angle mono camera), ADAS (lane departure alarm / front collision warning / departure notice for the
Front car / pedestrian detection alarm / traffic signal recognition) (Black box) ▲ Night Vision ▲ Support emergency phone / OBD / LTE / GSM / ADAS ONE mobile app.
According to industry sources, the price has not been confirmed, but it is expected that ADAS advanced features will be available in up to 30% less than the price of the Mobile Eye product even though it supports up to 2CH black box. This is a landmark pricing policy. Does the 'chicken game' begin before the ADAS market is ripe? Securing technology is important, but I think we should watch what will happen.
Bain & Company, a consulting firm, predicts that the autonomous navigation camera market will reach $ 25 billion annually by 2025, and market researcher Tractica estimates that the ADAS component market will grow to $ 200 billion by 2016 It is expected to increase from 18.1 million units to 1.2 billion units by 2025.
In Korea, Mando, an auto parts maker, and software-based technology start-ups have entered the ADAS market, and the black box function will be absorbed by ADAS in the future which will lead to a market expansion.
https://www.youtube.com/watch?v=lNX1MBxKtBk&feature=youtu.be
https://www.youtube.com/watch?v=iSP5TKW3iSI&feature=youtu.be